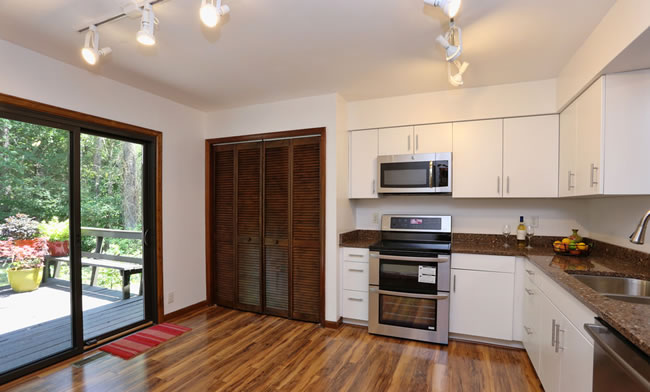 We rely on the lighting systems in our homes and buildings to light our paths on a daily basis.  Changing a light bulb when it burns out is no big deal but what if you're dealing with other issues with your lighting?  Flickering lights, constantly burnt out bulbs, lights turning off at random (often due to heat build-up) and more are all signs that you have an actual problem with the electrical circuit powering your lights.
A1 Electrical HVAC LLC and Electrical is a full service electrician based out of Durham, North Carolina.  We specialize in troubleshooting and repairing issues with lighting systems in residential, commercial and industrial buildings.  From repairing a faulty circuit in your home to replacing the ballasts and bulbs on all of the overhead lights in your building.
Lighting System Troubleshooting and Repair in Durham NC
Lighting Circuit Troubleshooting
Lighting System Repairs
Light Switch Replacements
Lighting System Design and Installation
Bulb and Ballast Replacements
Overhead Light Installations and Repairs
Commercial Lighting Repair
What Do You Do When Your Lights Aren't Working?
If your home or building is located in the Durham or surrounding area of North Carolina then A1 Electrical HVAC LLC and Electrical can help you get out of the dark.  Available 24 hours a day 7 days a week our electricians are available to troubleshoot and repair the most complex lighting problems for both residential or commercial clients.  If the lights in your building or just a specific room aren't working correctly it's not only a nuisance but it could be dangerous if the problem isn't repaired quickly.
New Lighting Installations in Durham NC
The installation of new lighting systems is a common upgrade for older North Carolina homes.  In the case of a new construction project as a new home or home addition the installation of your new lighting system is a much bigger job as wire will need to be run and switches installed and hooked up along with the new lighting.
A1 Electrical HVAC is a full service electrical contractor based out of Durham, North Carolina.  We specialize in the installation and or repair of interior and exterior lighting systems in both residential and commercial applications.
From the installation of new recessed lights to a versatile track lighting system to programmable timers and emergency lighting systems our expert electricians can provide excellent lighting solutions to brighten up any space.
Lighting System Installations North Carolina
Recessed Lighting Installations
Track Lighting Installations
Under Cabinet Lighting
New Lighting System Installations
Emergency Lighting Systems
Programmable Lighting Systems
Ambient Lighting
Cabinet or Display Case Lighting
Lighting System Repairs
The lighting in your home or building makes a big difference in how you and others enjoy using it. Bad lighting can be depressing.  You could have the most beautiful kitchen in all of the Durham area but it will look dull and unappealing if the lighting is all wrong!  Many people with older homes and some newer ones for that matter, make due with only 1 light in their kitchen, it doesn't have to be that way any longer.
Transforming your building into a well lit space is what A1 Electrical HVAC LLC and Electrical does best.  Whether you want to add more dynamic lighting to your home or you'd like to brighten up your business our knowledgeable lighting technicians and electrical specialists are going to have solutions for you.