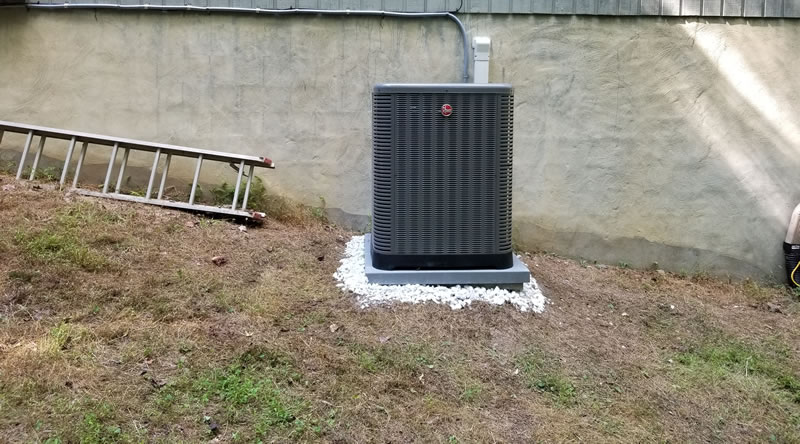 Heat Pumps do exactly as the name implies, they move hot air.  But did you know that heat pumps can also cool your home too?  That is one of the biggest advantages of a heat pump… You won't have the need to run a heating and air conditioning system separately.  Heat pumps also work extremely efficiently, because they just transfer the heat, rather than burn excessive fuel (gas or electricity) to create it. This makes them a little more green than most gas-burning furnaces.
Heat Pumps tend to work best in moderate climates like what we have in North Carolina, so they make an excellent upgrade instead of a furnace and air conditioner and you'll save a little money each month on your energy bills.
We Work With Two Kinds Of Heat Pumps:
Air Source Heat Pumps – This is probably the most common type of heat pump.  Air Source Heat Pumps take heat from the air outside and pump it inside through the refrigerant loaded coils.  The function could be compared to the back of your household fridge.  A1 Electrical HVAC LLC can sell, service and install air source heat pumps.
Geothermal Heat Pumps – Geothermal heat pumps work quite a bit differently than air source heat pumps.  Geothermal heat pumps actually absorb the heat from the ground or water and then transfer it indoors, or outdoors.  Geothermal heat pumps have buried pipes filled with water or refrigerant.  The refrigerant cooled piping system can be a closed-loop or open-loop.  With a closed-loop system, the liquid circulates through the pipes repeatedly transferring the heat continuosly.  With your open-loop system, water is pumped from the underground water source.  At this point the heat is extracted from the water via your heat pump, and the water returns to the source.  This is a very efficient and environmentally friendly way to heat your home. A1 Electrical HVAC LLC can repair, services, and maintain Geothermal Heat Pumps.
Heat Pump Repairs in Durham NC
If your heat pump isn't working correctly or there is a problem with the unit it will run very inefficiently which can lead to high power bills.  There are many moving parts and systems within a heat pump that need to be in good shape for the pump to run at it's best.  We specialize in diagnosing and repairing all makes and models of heat pumps.
Heat Pump Installations and Replacements in Durham NC
Are you building a new home?  Are you thinking about installing a heat pump for your heating and cooling needs?  We specialize in installing heat pumps into homes and buildings that are under construction.  We can design and build an efficient heating and cooling system that will be reliable and help you reduce your energy consumption.
Why Choose A1 Electrical HVAC LLC For Your Heat Pump Services?
We strive to provide the best, most efficient HVAC service for our customers. We are committed and truly care about providing you friendly, knowledgeable customer service. Often we can come out and service your HVAC system the same day you phone and we can schedule your appointment to a narrow time window. Your time is valuable and we recognize that! You'll never have to wait an entire day for us.
Your specific heating, ventilation and air conditioning needs will vary depending on the size of your building or place of business. A1 Electrical HVAC LLC can come up with affordable solutions to meet your needs, with flexible payment terms and even financing packages so you can get your HVAC needs taken care of.
If your Heat Pump system needs repair, an overhaul or replacement give A1 Electrical HVAC a call today 919-225-4654 and we can schedule an appointment.