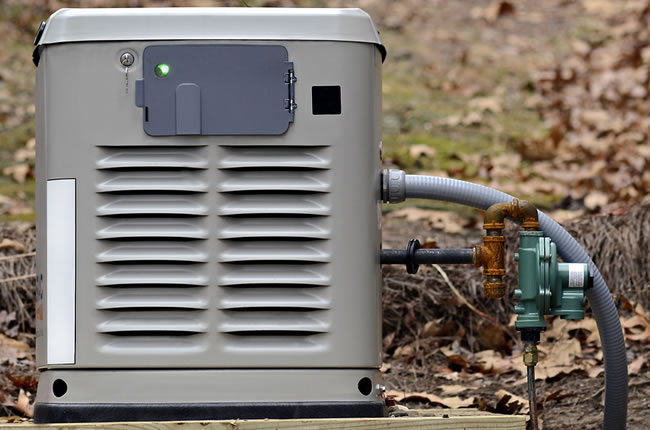 Backup and Standby Generator Installations in North Carolina
When the power goes out we can make sure you're still up and running.
Standby or backup Electric Generators are quickly becoming a common upgrade for many modern homes and buildings in both rural and city settings alike.  With the amount of essential electrical devices running in our homes a sudden or extended power loss can be extremely inconvenient. Not only an inconvenience but power outages can be extremely costly for commercial property owners and business owners who lose money when their facility is without power.
The solution is a have a standby electric generator installed on your home or building. Some backup systems can sense your power outage and kick in automatically, while others may need to be started up manually. Backup generators that we install typically run on natural gas, propane or even diesel fuel and they can be wired into the main panel or a transfer switch.
A1 Electrical HVAC LLC and Electrical is a full service electrical contractor in the Durham, NC area. Standby generators are a common building upgrade that we've performed many, many times. When you choose William D. Taylor to install your standby electric generator you will have the peace of mind knowing your installation is clean, safe and warranted against any defects.
More importantly, it's going to work flawlessly when you find yourself in a situation that requires backup power.
Backup Power Generator Installations:
Emergency Power Backup Generators
Transfer Switches and Generator Panels
Residential Backup Power Generators
Commercial Backup Power Generators
When we install a backup generator in your home (it's actually outside – or can be in a shed) we hook a new breaker panel (load center) to your existing electric panel. Then we connect all the circuits you would need to run during a power outage to the new panel (which runs to your standby generator).
During a power outage you may want to keep your fridges and freezers running, maybe hot water tanks, well pumps, heat and lighting, computers, medical machines and more. It's up to you to determine what you'd like to run and then a competent electrician will be able to advise you on the correct size generator and what can or cannot be hooked into the circuit.
For homeowners who don't want the complexity of an automatic back up power generator there is also the option of installing a "Transfer Switch" within your home. A "Transfer Switch" is also a sub panel that comes off your main panel with all of the utilities you'd like to run during a power outage.
The transfer switch has a 220V receptacle (like your dryer plug) that you can plug a portable generator into (with the correct cable). This is often a more preferable option if you've already got a decent portable generator but are sick of running everything with extension cords (which can be dangerous).
Either solution is something that A1 Electrical HVAC LLC and Electrical can complete for you. If you'd like to have a backup power generator system installed in your home or building then give us a call.