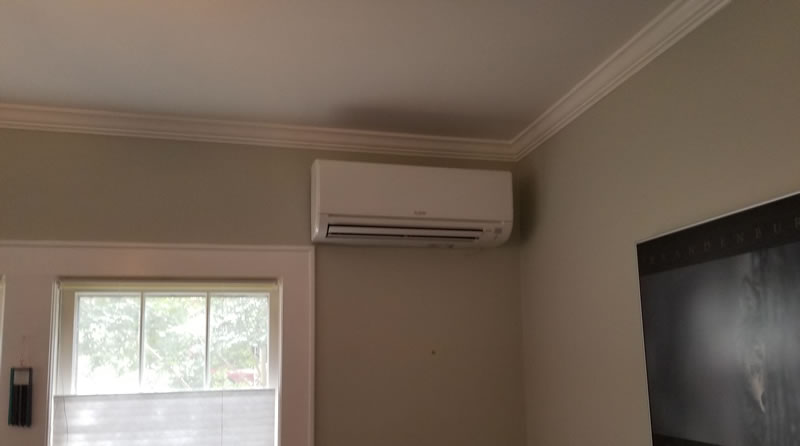 Do Your Air Conditioning Without All The Complicated Ductwork?
A1 Electrical HVAC LLC specializes in installing Ductless mini-split AC systems
Ductless mini-split systems are an economical way to add air conditioning to your home or office without the complication and expense of constructing and running complicated ductwork throughout your home or building.  Mini-split systems work best for smaller rooms, offices or additions on your home that are generally less than 1500 sq ft. in size.
If your space is larger than that, it's a better decision to go for a Central Air Conditioning system.  Many smaller homes, offices and buildings were never built with air conditioning systems, and they really don't have much room left within walls and ceilings for ductwork.  In these type of situations, mini-split systems are perfect.
A1 Electrical HVAC LLC is based out of Durham, NC.  We specialize in the sales and installation of ductless mini-split systems.
Why Install A Mini-Split System?
Unlike traditional window mounted AC units a mini-split is very versatile in how it can be placed within your home or building.  They can be suspended from ceilings, out of the way or even flush mounted into a drop ceiling if you like.  It's also not uncommon to just see mini-split systems hung right on the wall as it's only about a 3″ hole that needs to be cut for the wiring and refrigerant lines.
Installation: Ductless mini-split air conditioners are usually a trouble free installation for a professional, barring no unforseen complications.
There is no ductwork required and the only modification is often only a 3″ hole in the wall for the refrigerant lines and wiring. A1 Electrical HVAC LLC can come up with the innovative solutions to install your Ductless mini-split system for years of trouble free use.
Ductless Mini-Splits Are Very Efficient
Because mini-splits don't run any ductwork they are very efficient.  Most traditional ducted central air systems will lose 15-20% or more of the conditioned air through leaks or poorly constructed seams in the ductwork and every bend in the run of ductwork will also add resistance to the system, decreasing it's efficiency.  Mini-split ductless air conditioners solve this problem.
Ductless Mini-Splits Also Provide Heat
Ductless mini split air conditioners offer heat via a heat pump.  This is a great feature for those of you who need some heat in your space during the wintertime.  The forced air heat they provide circulates your room much better than baseboard heating.
We Can Install Ductless Mini-Splits In:
Homes
Apartments
Small Offices
Computer Server Rooms
Electrical Rooms
And More!
A1 Electrical HVAC LLC is an experienced installer of ductless mini-split air conditioning systems and we can give you an honest assessment of your particular air conditioning needs and if a ductless mini-split system is going to the be the best choice for you.  With over 30 years of experience in the Heating, Ventilation and Air Conditioning industry, you'll be in good hands!