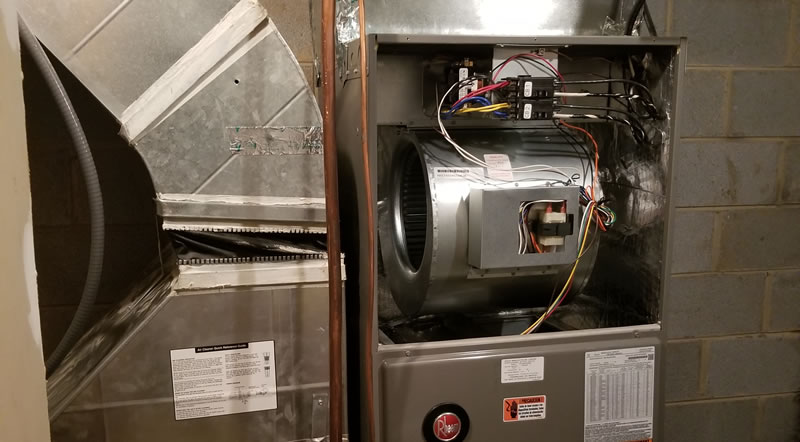 Home Heating is one of our largest energy expenses and many households in North Carolina are running older, inefficient systems for their home heating.  This costs some homeowners potentially $100's of dollars every year in wasted energy.  The Gas and Electric furnaces from 20 or 30 years ago just don't have the same efficiency as the more modern home heating products that are available today.
A1 Electrical HVAC can sell, install, and service Gas Furnaces, Boiler Systems, Electric Furnaces and even Heat Pumps.
Which Home Heating Method Is Best For You?
Electric Furnaces – Electric Furnaces are what most older homes would likely have installed.  They can work very well when installed correctly, with proper ductwork in place.  Electric Furnaces also last a really long time if they are cared for, with service lives of 20-30 years not being uncommon.  Electric Furnaces are easier to install but are also more expensive then gas furnaces, and the electricty is also more expensive than gas.  Usually people who choose an electric furnace do so because they don't have any other choice.  William D. Taylor can service your Electric Furnace.
Gas Furnaces – Gas Furnaces are much more efficient than electric furnances, actually it wouldn't even be fair to compare them.  They are more complicated to install in your home, but the overall cost to run them is much lower than electric furnaces and with the price of natural gas right now will likely remain so for quite some time.  Gas furnaces are the most common type of furnace being installed in newer homes and with home improvement upgrades.
Why Choose A1 Electrical HVAC LLC For Home Heating Repairs?
We strive to provide the best, most efficient home heating repair, installation and service for our customers. We are not a large company but we're big enough to complete your job, and we're still small enough that we truly care. Often we can come out and inspect your gas or electric furnace the same day you phone and we can schedule our appointments to the hour. Your time is valuable and we recognize that! You'll never have to wait an entire day for us.
Your specific heating, ventilation and air conditioning needs will vary depending on the size of your building or living space.  A1 Electrical HVAC can come up with affordable solutions to meet your needs, with flexible payment terms and even financing packages so you can get your Home Heating needs taken care of.
If your home heating system needs repair, an overhaul or replacement give A1 Electrical HVAC a call today and we can schedule an appointment.