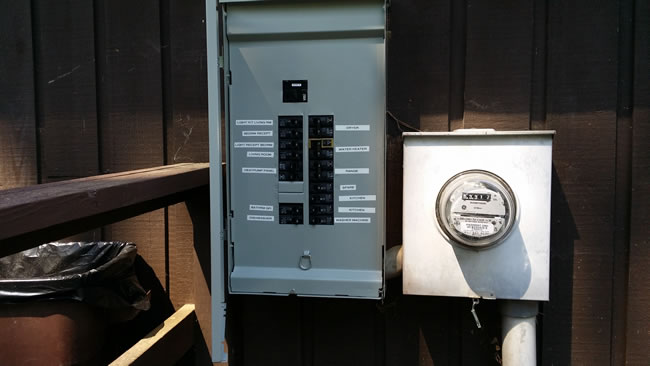 Do you feel the wiring in your home or commercial building is unsafe or possibly dangerous?  Do you have questions about your wiring and electrical systems?  Having your electrical system inspected for code compliance annually is a good idea if you'd like to keep a professional eye on things.
A1 Electrical HVAC LLC and Electrical is a full service electrical contractor based out of Durham, NC.  We know the North Carolina electrical code for both commercial and residential applications inside and out and one of our specialized services is thorough and detailed electrical inspections.  Checking for code compliance and other obvious issues such as loose connections or frayed wires we'll be able to give you the peace of mind knowing that your electrical system is safe, or what needs to be completed to make it so.
Electrical Code Inspections and Repair
Commercial Electrical Inspections
Industrial Electrical Inspections
Specialized Wiring Inspections
Residential Electrical Inspections
Circuit Identification and Tracing
Electrical Outlet Inspections and Repairs
Electrical Code Corrections
Electrical Code Violation Repairs
Electrical Fire Hazard Identification
Electrical systems are nothing to mess with.  If you know the wiring in your home or building is unsafe, or you've been ordered to have it inspected by the city then it's critical you have electrical professionals with a keen eye and a thorough understanding of the North Carolina electrical code.
Pre-Purchase Electrical Inspections For Home and Commercial Building Buyers
If you are about to purchase an older home or building in the Durham area it would be a good idea to have a competent electrical professional take a look at the electrical systems and panels in the building.  There are many unseen portions of the electrical system in a building that can harbor extensive problems only a professional would be able to spot.  The electrical professionals at A1 Electrical HVAC LLC and Electrical will be able to inspect the electrical system and let you know about any maintenance, repairs or upgrades that might be required.
When you choose A1 Electrical HVAC LLC and Electrical to complete an electrical code inspection on your home or building you're partnering with a small team of dedicated electricians who take safety and reliability seriously.  We'll be able to help you identify and correct dangerous electrical problems.